A Bologna local assured me that, "It will happen when Galvani turns the page".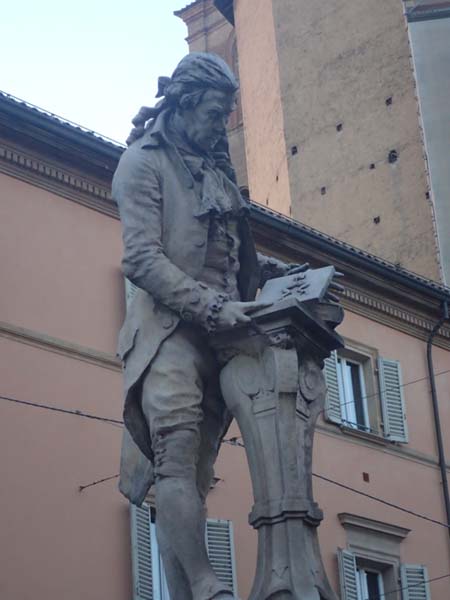 She was of course referencing the stone statue in the middle of town, however I long felt this way about ever getting to see the famous children's book fair.
However I did make it to Bologna and found myself arriving late and tired in a city unlike any I have visited… this was in fact my first visit to Italy. I was feeling a little overwhelmed in this different world until I established that Franca, our apartment host, had once taught English only a few miles from home. After a good night's sleep, I sauntered forth with the assurance that it really is a small world.
However this feeling blew away as I arrived at the Bologna Book Fair.
My oblique view of the Bologna Book Fair.

Bologna Book Fair Entrance at a quieter moment
A children's book fair is no place for children.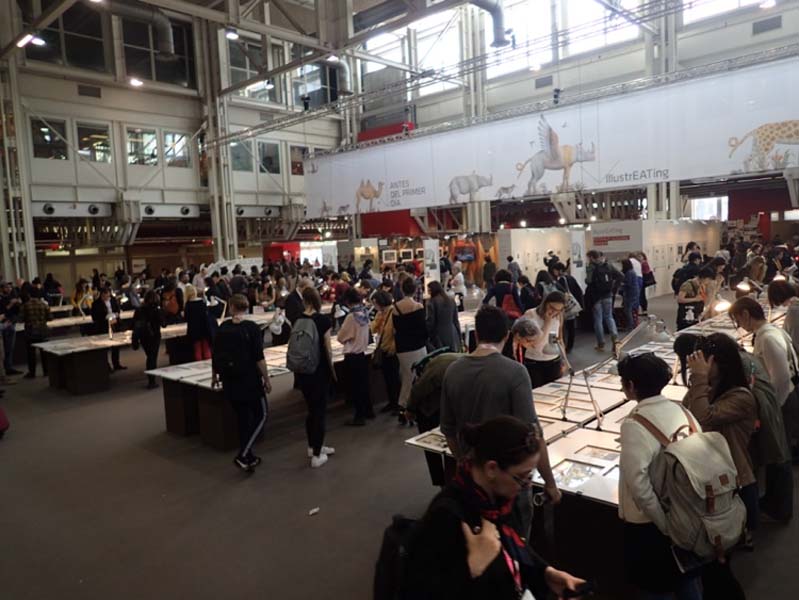 The illustrator's exhibition.
It is quite confronting to enter the gates of the world's biggest children's book industry fair. My immediate thought was how very far away all this in front of me is, from the quiet little corner where I usually live and work.
I contemplated the physical and mental space from which a book is created to eventually … hopefully … sit among this throng of people and the thousands of other books now on display here.
One very big advantage of going to the fair is that you are likely to meet friends and acquaintances from the publishing world. My hub for tracking down folks is the Hello from Australia stand. After checking in with industry stalwarts Ann James and Ann Haddon (who organize the stand and do the heavy lifting every year at the fair), I stopped in a couple times every day to see some familiar faces.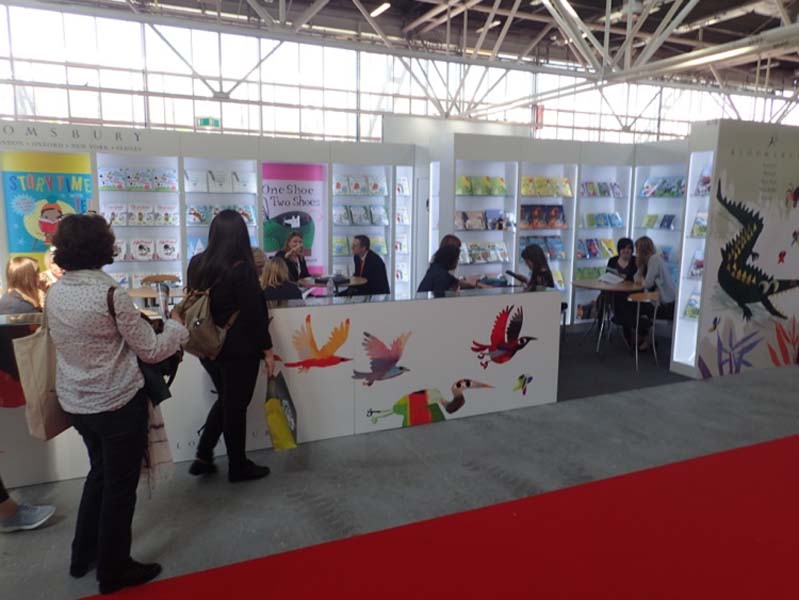 Meetings in a publisher's stand which was repeated throughout the halls.

As I wandered around the many stalls, I noticed the business types who were all sitting upright in their temporary offices; dressed in nice suits, crisp shirts and shiny shoes. They were in stark contrast to the creative types; that stalked up and down the halls draped in organic cotton with felt shoes and leggings that were doodled on that morning while waiting for the bus.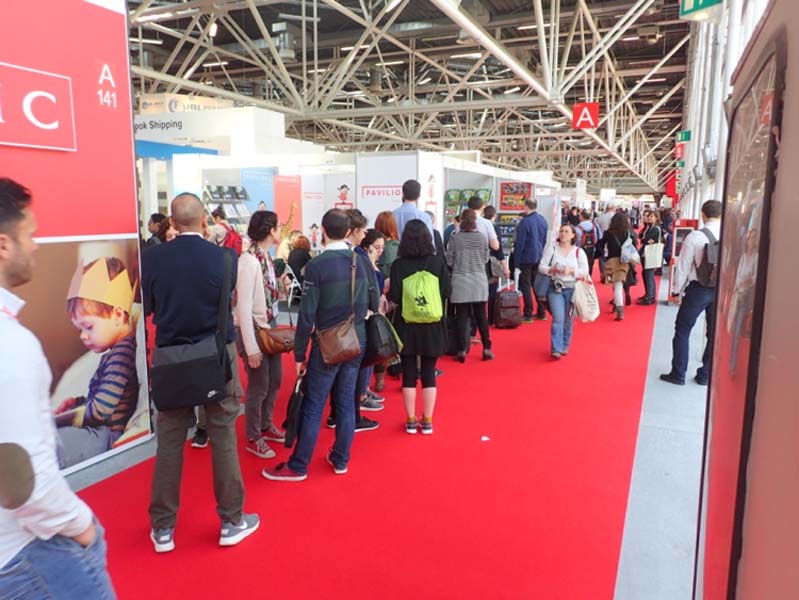 A line up of illustrators waiting for a folio viewing.
Many publishers offer illustrator folio viewings and I could see long queues of these snaking around the stalls while they waited to have their art reviewed.
I freely admit that participating in such things used to frighten me out of my Alice in Wonderland tights. The biggest problem with waiting alongside other (most probably) brilliant illustrators, in these long lines, is the resulting personal shrinkage.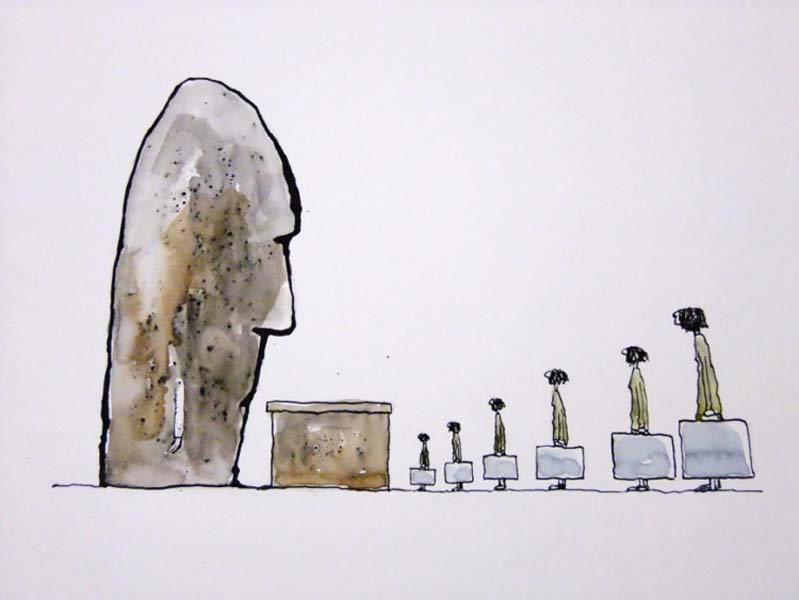 The shrinkage effect of waiting to be reviewed.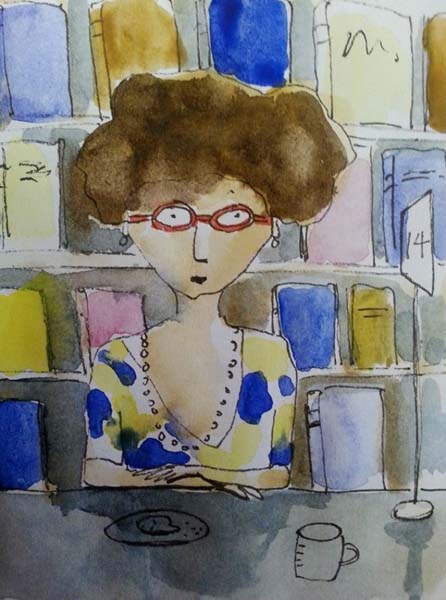 Some editors even chose camouflage among the books for sanctuary.
I went about my daily business attending appointments and even joined one illustrator queue. All the while I watched the business of the fair unfold, when a curious thing happened to this Alice. Towards the end of one meeting I sat there trying to politely drink a coffee that had long since cooled when the publisher mentioned how she gets teary at a certain point in each fair. She suggested other publishers have admitted feeling the same.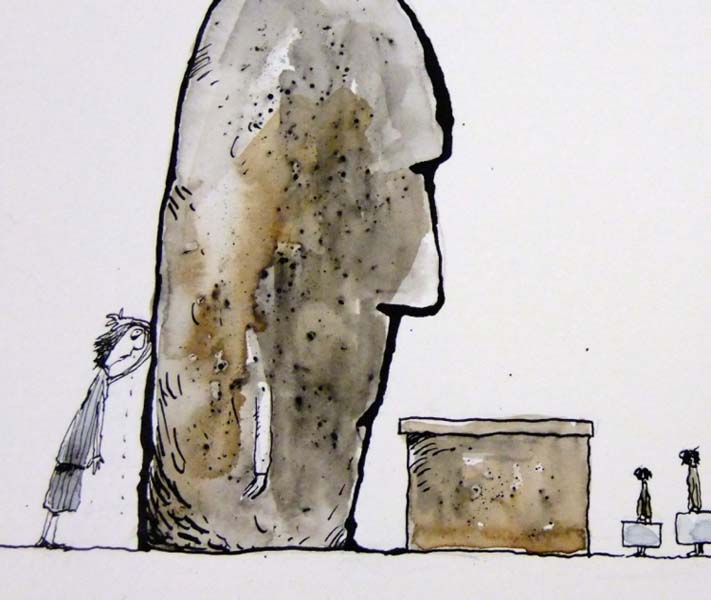 The other side of the table.
While I sat across the table and listened to this highly successful publisher it dawned on me that the fair is an exhausting and emotional experience at times; for me to put forward my best work all … in hope. However it is obviously also exhausting from the other side of the table as well.
My illustrating demonstration at the 'Hello from Australia' stand.
But that is exactly why coming to a place where all the elements of the children's literature industry meet and mingle is such an edifying experience. What happens here on a large scale is of course intimately connected to what we as writers and illustrators and publishers do on a daily basis.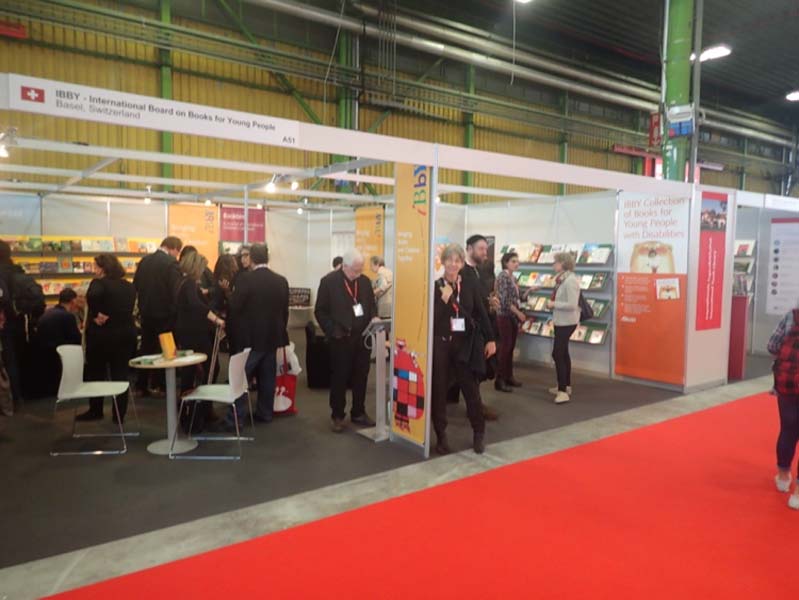 Looking at the IBBY stand.
Having such a large gathering displays the diverse choice of great books in this thriving industry. It also gives a platform and voice to worthy bodies such as IBBY for instance, who highlighted during their press conference, the need for good books for children who currently can't access them.
Amidst the noise and business, it is often a challenge to remember that we are all working toward that one goal at the end of the day … a child with a beautiful book in his or her hands.
Each evening we ventured out in Bologna town, walking on the terrazzo footpaths all mellow and faintly polished looking like eggy nougat. We sauntered through the great city square with its looming medieval church which has a dark, nubbly and Braille-like façade. People sat about on its steps as we passed by, others were in loose groups throughout the square.
Then on the last evening a penny dropped about this town. Perhaps I had been too focused on the fair, or maybe I was not fully paying attention. We had just been to see the works of renowned painter Giorgio Morandi at the MOMA museum. Morandi was a Bologna native whose work I have always admired its extraordinary simplicity. His is the work of great love and concentration which can both hold your gaze and evoke something from such seeming ordinariness.
Afterwards we walked a now familiar path to town. The evening light shone on the buildings in colours much denser than in the morning. A busker just off the square was strumming Leonard Cohen's Suzanne and I began to mentally list my impressions of the town; the clattering bikes, the shutters above windows with heavy wooden doors below, keyholes in the shape of a lion's mouth, the paper thin pink salty ham accompanied with double malt beer, strawberries so acutely sweet they make you wince, the jujube light glancing off the walls which seemed to concentrate as the day went on.
Then it came to me, all around me was every marvelous soft hue which Morandi had painted. It had been so ever since we got here and having finally seen it, I felt a pang of affection and gratitude for his paintings. In them, I saw a thousand evenings in Bologna.
Munich
How a person chooses to travel must surely count for something … when the destination is reached. I had an entire day of watching the Alps as our train travelled through the Brenner Pass from Bologna to Munich. It gave me hours to anticipate arriving in a city I have never seen and yet had heard so much about from my German parents. It also gave me hours to draw and write, which seems to go very well with train travel.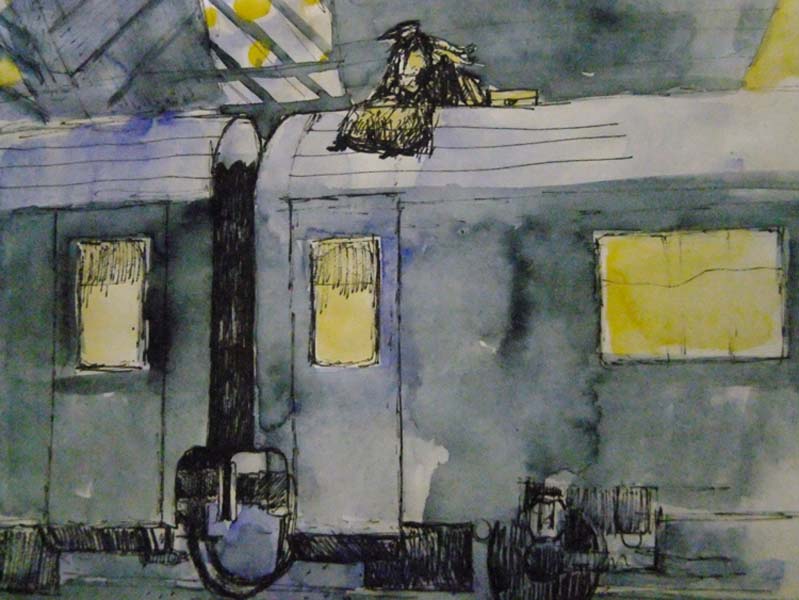 During the journey, my visual diary was haunted by a fellow traveler with coat and suitcase. Eventually I arrived in Munich, with rather more baggage than my Birdwoman and wearing a far less stylish coat.
Despite my family history, I personally was a stranger to the city. However it was my good fortune to have made the acquaintance of Patti Coughlan Buff the regional advisor of SCWBI Germany/Austria before setting out.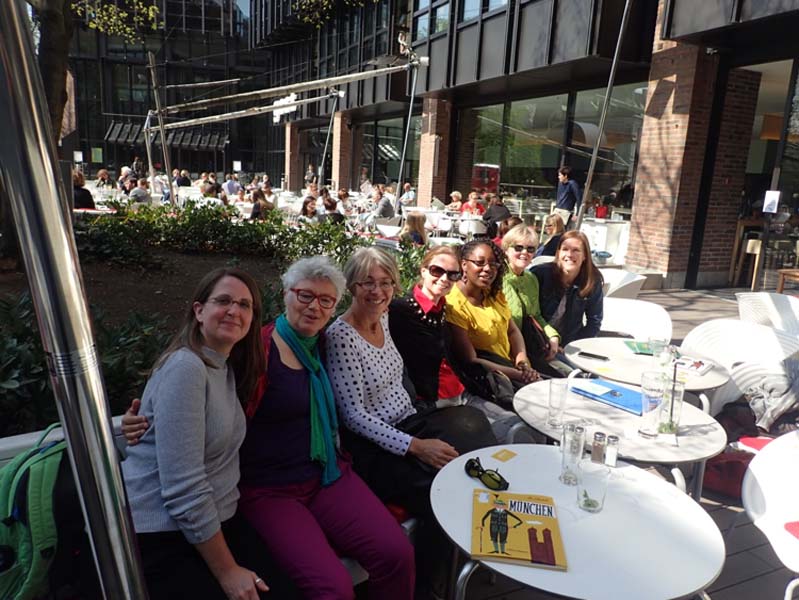 I owe a debt of gratitude to Patti, Twyla Weixl, (myself), Andrea Bildstein, Ibi Addey, Emily Schoenbeck and Tracey Jaffert from SCWBI Germany for welcoming me so warmly.
… creators have to learn how to wear a dozen other hats … something that can cause groans of despair when authors and illustrators get together.
As we settled in on a very lovely Munich morning, to work our way through pizzas the size of hub caps and discuss the seemingly universal joys … and otherwise, of working in children's literature. Discussions soon turned to the challenges of being a creator and facing the difficulties of seeking a publisher, of making inroads into the industry, of accessing the market and promoting a product, challenges which are all shared. It is one of those truly difficult realizations we must face, that making the work is just the start. The reality that creators have to learn how to wear a dozen other hats while riding a unicycle and juggling flaming lions is something that can cause groans of despair when authors and illustrators get together.
Sharing this knowledge is one of the enlightening things of being a member of industry bodies such as SCBWI. If only I had been able to sit and ask questions of folks like these when I started out twenty years ago … I might have started juggling much sooner.
We finished up with coffees and sharing works in progress. Later I was treated to a surprise tour of Munich's French Quarter by Twyla. The idea was to do a little drawing and end up either at someplace that served beer or ice-cream. I hoped for both but in the end was happy to settle for Twyler's encyclopedic knowledge of her adopted city and some spectacular ice-cream.
While most of my time in Germany was spent in Munich, a little side trip was arranged via an invitation of Sanne Dufft (SCWI Germany/Austria regional illustrator coordinator) to visit her beautiful home town of Tuebingen.
Our accommodation was unusual in that it was a hospital and research institute for tropical diseases. It just so happens that rooms are also available to travelers which was somewhat ironic in our case, as we hail from the subtropics and have been punctured by an astounding array of blood sucking insects. I was tempted to offer my body to science there and then, but not at the risk of missing dinner with Sanne and her family. I had seen her new book Magnus and the Lion at the Bologna Book Fair and so was very keen to meet her and hear about her experience as a published German illustrator. We hoed into big, pale, delicious spring asparagus and compared stories. The following day we went about drawing in the old part of town.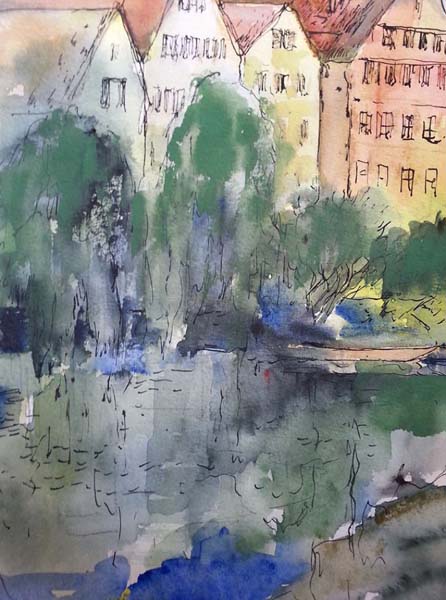 Something I could not help but notice as we traversed the little streets of this roman built town, was Sanne's deep sense of connection to her city and her culture. The question of such connections were much on my mind as we said farewell to Sanne and Tuebingen.
Driving back to Munich, I recalled a story my mother had told me, of how she had once been seized by the impulse to ride to the Polish border on her bicycle … just to stare across into another country. This brought me right back to Munich, a small feathered woman endlessly travelling across the pages of my journal and the reason I had come to this part of Germany.
My mother had been orphaned here soon after the war ended. I went to the district she had lived and found a beautiful street of four story buildings which overlooked a steep wooded embankment next to a small and clear river. Through the bare branches I could glimpse parts of the city's rooftops and church spires. All around me were deciduous trees with new tender leaves and tiny flowers in impossibly soft grass.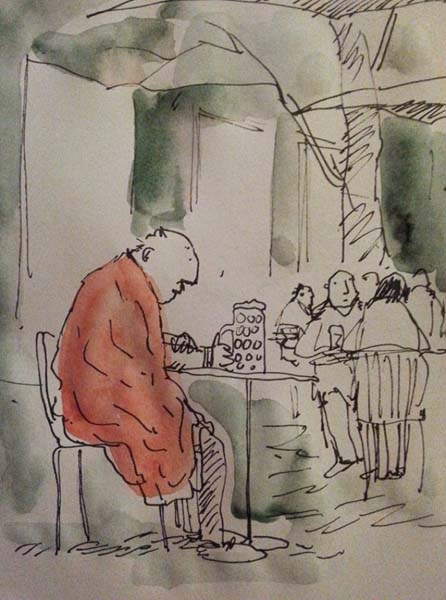 All of this was exactly the kind of pretty European scene I was expecting, with its graceful buildings and people out in the streets each evening, charmingly glowing from that excellent local beer. The city is rich in cues for a sense of Heimat; a feeling for the place one hails from.
However this same city presented very differently to my mother's eyes 60 years ago. Her only desire was not to stand and look across the border into another world, but to step over the boundary and never return. That is what she eventually did and it was a brave act. The fact that life is precarious was a lesson she had not missed, nor my father for that matter.
I have always envied people who have a sense of belonging.
I have always envied people who have a sense of belonging. Doubtless my migrant background has something to do with this. However, I also think there was a gift in my sense of loss, which was the necessity to respond creatively to the question of making oneself at home in the world.
Picture books taught me this – the meaning implicit in imagery. The language of emotion and connection, the lesson that sense can be made of the world and in that effort, a place for ourselves can be won. No matter where we are.