In our newest interview, CWG Online Editor John Wright is pleased to welcome the one and only "Ghost of Mark Twain," CWG Contributor McAvoy Lane!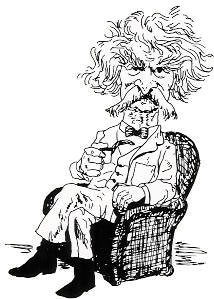 McAvoy Layne

McAvoy Layne has been preeminent in preserving the wit & wisdom of "The Wild Humorist of the Pacific Slope," Mark Twain. McAvoy is the ghost of Samuel Clemens in A&E's biography of Mark Twain, and in the Discovery Channel's Cronkite Award winning documentary, Adventures of Huckleberry Finn. He is a winner of the Nevada award for excellence in school and library service, and author of a soon to be published audiobook, One Life is Not Enough.

Welcome, Mac!
John
Mac, you and I have been friends and serious pen pals for about 6 years now, and the Ghost of Mark Twain has become an important part of my life.
For the enjoyment of our readers, I would like to take you back to the beginning – to the time when you first contemplated becoming Mark Twain.

Mac
Jack, the poet holds the loftiest perch in literature. I only portray Twain because I cannot do Whitman. You could do Whitman… you are Whitman.
John
Mac, you are the master of hyperbole, nevertheless I appreciate the spirit in which your assessment is tendered. Now back to you. First, where did you grow up?
Mac
I haven't. And neither did Clemens. The wife he adored, Olivia, called him "Youth," because he never entirely grew up.
John
When did you first develop your passionate interest in Twain?
Mac
In the winter of 1977 I rented a car, did some shopping, drove to Lake Tahoe, located the cabin I had rented for five days, and filled the refrigerator with provender. Quiet as it was, I could hardly sleep that night, so excited was I to ski. It was quiet because it was snowing five feet, still a record to this day. When I awakened the cabin was dark. We were buried under five feet of snow.
There was a dartboard on the wall. I found some darts and started throwing. I threw for two days, then my elbow gave out, and I sat down on the couch. On the coffee table was a book, The Complete Essays of Mark Twain. I picked it up and started reading. I had cabin fever by then and my brain was soft. My brain was sloshing around like so much drawn butter, and in that condition, those essays made perfect sense, and that seed was planted in fertile ground. It was as though I had a tap on the shoulder, a calling into the cloth if you will. I didn't realize it at the time, but I would spend the rest of my life spreading the gospel, the gospel of Twain, though not reverently pious, fervently American. That ski trip to Tahoe would not only provide me a more interesting life, it would give me another life.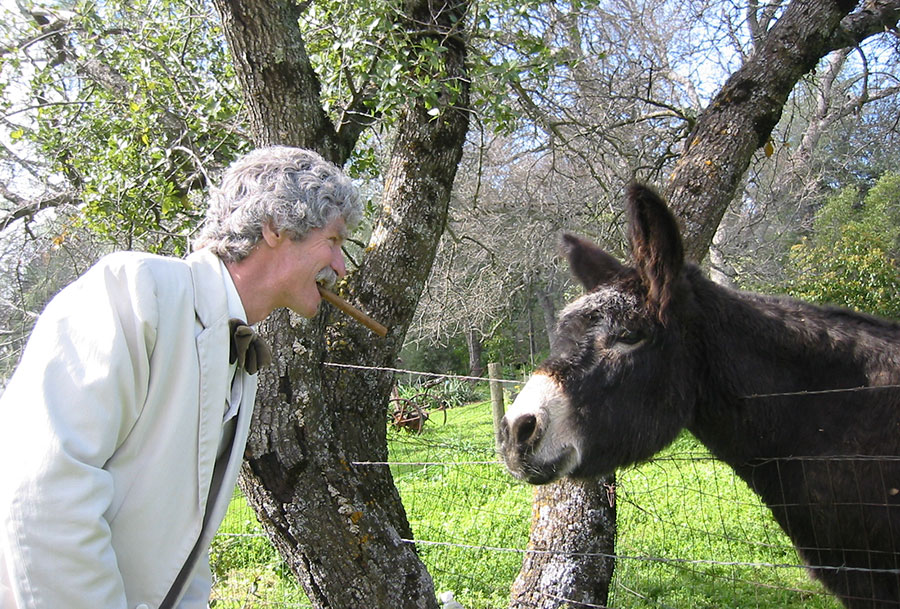 John
How did it occur to you that you might make a career of portraying one of America's great men of letters?
Mac
Hal Holbrook, with his inspiring impression of Mark Twain gave me the courage to give it a try. Without Mr. Holbrook's example I could never have imagined becoming somebody else.
John
You seem now to have channeled Twain's personality into your professional identity as The Ghost of Mark Twain. How did that transformation take place and how long did it take for you to "nail it"?
Mac
Most of Twain's work recites really well, and as a consequence, is easy to memorize and recite. It's fun. I'm working on
Hunting the Deceitful Turkey
right now and just love it for its subtle humor and characterization of human nature. I have yet to nail it…
John
Mac, what are the challenges of going in and out of character. It seems to me that your sense of humor is virtually indistinguishable from that of Clemens.
Mac
I don't think I have a problem with going in and out of character, Jack, but my friends tell me I do.
John
Tell us about your article "Becoming Mark Twain."
Mac
Presently, I'm recording an audiobook,
One Life is Not Enough.
I hope to encourage young people and retired people to find someone they admire who has been dead a hundred years, and bring that person to life. (I'll attach a photo of my favorite Chautauqua character.)
John
Where has your career taken you around the world?
Mac
Russia, Europe, the Sandwich Islands … last year I got to introduce a new brand of whiskey in London. I have to tell you, Jack, that beat a 7th grade classroom.
John
What do you like best about being the "Ghost of Mark Twain"?
Mac
As the Ghost of Mark Twain I don't cast a shadow. But better than that I do get to see places I wouldn't get to see and meet people I wouldn't get to meet (like you) were I just me.
John
Do you have a favorite quote or two or short story about Twain that you would like to share with us?
Mac
I leave a Twain quote on my answering machine each morning. People call, get the quote and hang up, it makes me so mad. My favorite Twain quote I make into bookmarks and give to kids at graduation… "Always do right, this will gratify some and astonish the rest." Stories? I love them all.
Always do right, this will gratify some and astonish the rest.
John
Tell us about the establishment of the Mark Twain Cultural Center in Incline Village, Lake Tahoe. Describe some of the programs that you put on.
Mac
Sadly, the Mark Twain Cultural Center had to clear out and make room for a medical marijuana dispensary, so we were homeless for a couple of weeks until our historical society asked if we would perform in their facility here in the village. It's nice to have shelter again.
John
What is the most interesting experience you have had portraying Mark Twain?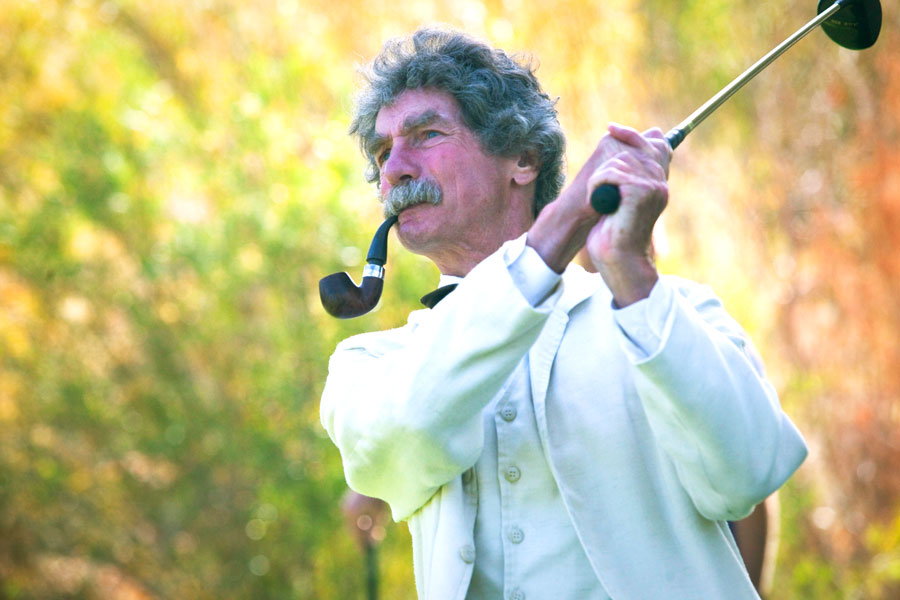 Mac
My first appearance for pay was to climb into a boxing ring at the Ormsby House on "Smoker Night," not to fight, but to lead the house in the Pledge of Allegiance.
On the way there I ran out of gasoline at the top of Spooner. So I stood on the side of the road in my white suit with my cigar, and sure enough, the first vehicle to come along pulled over and picked me up. It was an old chicken truck and driving that chicken truck was the oldest man I ever saw behind a wheel. He was an Hispanic gentleman, perhaps 90 years old, and chicken feathers were flying everywhere. I thanked him for stopping, and he greeted me with, "You…look like maybe somebody I should know."
"Muy Viejo," I said humbly, "Mark Twain." And I stuck out my hand.
He looked me over with a discerning eye, scratched the stubble on his chin, extended his hand and said, "Me … Ponce de Leon."
So there we were, driving into Carson together, Ponce de Leon and Mark Twain. He took me straight to the Ormsby House, where I climbed into the ring with chicken feathers clinging to the white suit, but I was on time, thanks to Ponce de Leon.

John
Tell us about the new program that you have developed using Skype to bring Mark Twain to classrooms around the country.
Mac
It's my belief that Chautauqua is the wave of the future in education. History can be boring. Living history is never boring. With Skype we have the ability to deliver everybody from Lincoln to Tubman right into the classroom in real time. Exciting? I think so.
John
How does it feel to on an official US postage stamp?
Mac
Bully! Very Bully. Though I am getting old enough now that at times I find myself standing alone in the kitchen, wondering why I came there in the first place, and feeling not unlike an envelope without a stamp…
So now I've got a question for you? How does your poetry help you see the world as you do?
John
Well Mac, you are among the very few people who have read the majority of my poems.
Having done so, you are right to think that they are the reflection of a process of self discovery, and a quest for the deeper meanings that have thereby threaded their way through my work to animate my world view.
Mac, as always it has been a real pleasure to talk with you and to introduce the "Ghost of Mark Twain" to our readers across the country and in other countries around the world.
I hope that you have enjoyed this interview as much as I have, and I hope further that our Children's Writers Guild Online readers will become fans of the Ghost of Mark Twain!