We set out from London with the usual circus of roundabouts and wrong turns. Our GPS was inhabited by the voice of a sage who intoned Toward the North after every minor instruction to go left, right or straight on. So Toward the North we went, until we reached the fringes of Newcastle upon Tyne.
I liked the place immediately upon seeing the massive steel sculpture which heralds your arrival to the city.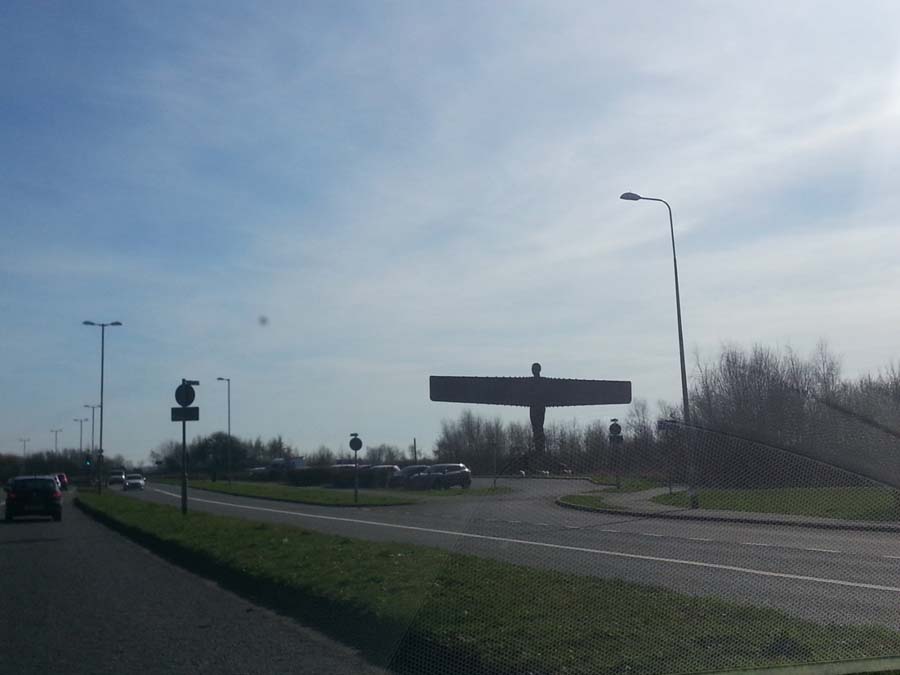 The Angel of the North is an uncompromising and immense presence, totem like and just a little reminiscent of a crashed plane. But no, the outflung wings are of an angelic figure standing as if from the beginning of time, featureless and unyielding. It did indeed feel as if I was entering the realm of the Bearded One while turning, Toward the North as instructed by our wizened electronic master.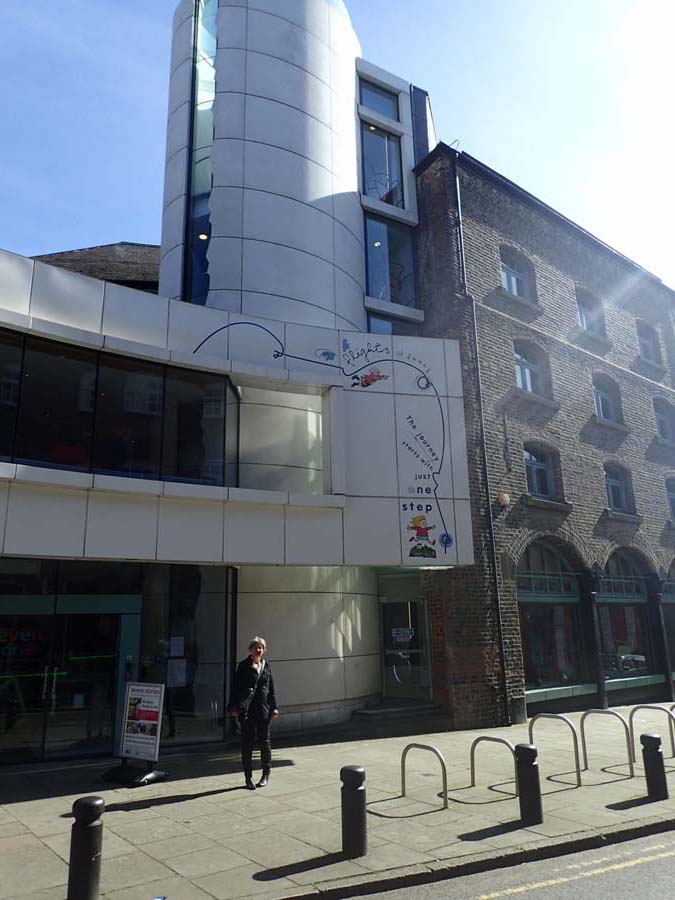 That evening we walked through the city. It was Saturday and obviously the night for couples to go out on the town in their best, while blithely disregarding frostbite. I could not help feeling this place has a profoundly unique way of life and with it, a great deal of vitality. Being somewhat less vital and frankly unpleasant in our elastic waisted travelling pants, we turned in early so as to be ready for the main purpose of our visit.
The following morning, we found our way into the Ouseburn Valley; a former industrial area which has undergone urban renewal.
Seven Stories which somewhat poetically, is a seven story Victorian warehouse located within the valley. The building has undergone a massive renovation to make it fit for purpose as the National Centre for Children's Books.
We were met by Carey Fluker-Hunt who had graciously come in on a Sunday to give us a tour.
I felt bad about interrupting her weekend until at a certain point, as we climbed Rapunzel's tower, I realized she was very happy to spend her free time here. I quickly saw why.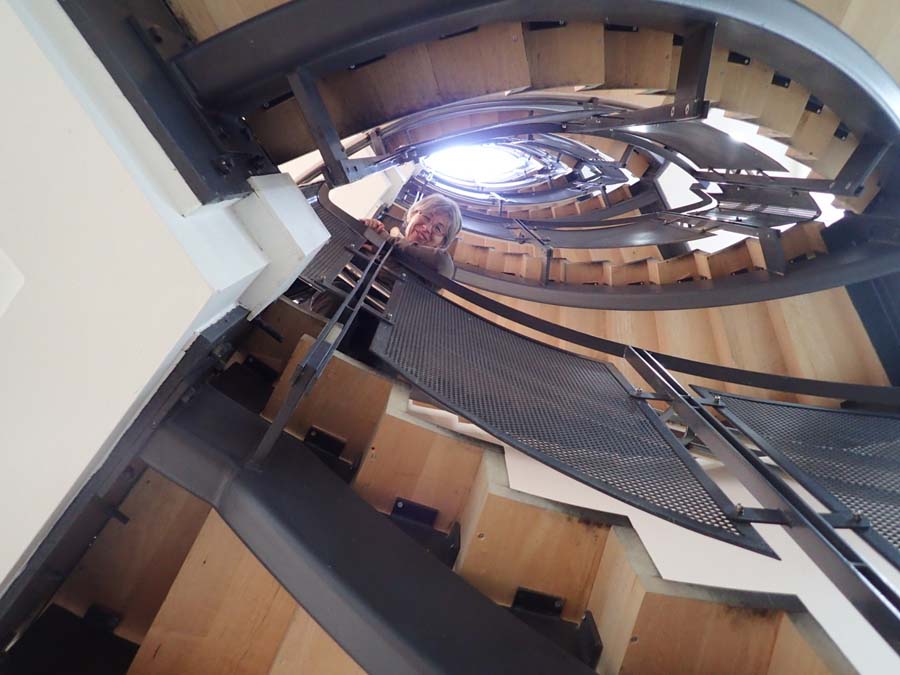 There is a school of thought which states that once you know how a thing is made then its magic is lost. That may be so with sausages and the law, but cannot be further from the truth with books.
The current exhibition was Michael Morpurgo, 'A life in stories' one of Britain's best loved story makers and this unique exhibition showcases, for the first time, the notebooks and manuscripts that became the classics we know today including War Horse, Private Peaceful, Kensuke's Kingdom and Farm Boy.
The entire fourth floor or was it the fifth …either way, the floor was turned over to a display of Morugo's final art, writings, roughs and all the familiar trappings of a work in progress. Now I say familiar, because this has been my life for many years now. However as a child who would not let a day go by without some kind of visual record … or heaven help me a poem, this stuff is gold.
The thing which niggled at me while we perused each display, was what an enormous gift it is to see the humble, unpolished, homely, tea and biscuit stained reality of how books begin.
Whenever I watch someone who loves picture books look at a new offering, there seems to be a practiced ritual. It starts with the stroking of the cover. Next is feeling the book's weight and dimensions as they take in the face of the book, its font, its design,its personality. Then there is a ritual opening of the book with its wafting paper smells… those less inhibited will go right in for a sniff at this point. Following this, an assessment of the paper begins; shiny or creamy or matt or toothy or glassy smooth …mmmh, a curled finger to lip… and they have not even begun to read yet.
My point is that a published book is a minor miracle on a number of levels. It stands at the end of an extraordinary process involving the skills of many people.
My point is that a published book is a minor miracle on a number of levels. It stands at the end of an extraordinary process involving the skills of many people. I would have found it immensely heartening as a child to see the scrawlings from which a book is born. I might have learned an important lesson as well, about the time and effort it takes to shape an idea in order to achieve something satisfying, elegant and simple. And that something wonderful can emerge from that tiny idea. I might have even finished that poem … or not … probably better-not.
The display Bears! Is physically and literally a walk through the woods, a beautifully conceived and engaging exhibition of bear related books, art, marvelous toy bears and other bear quirkiness right down to bear prints on the floor.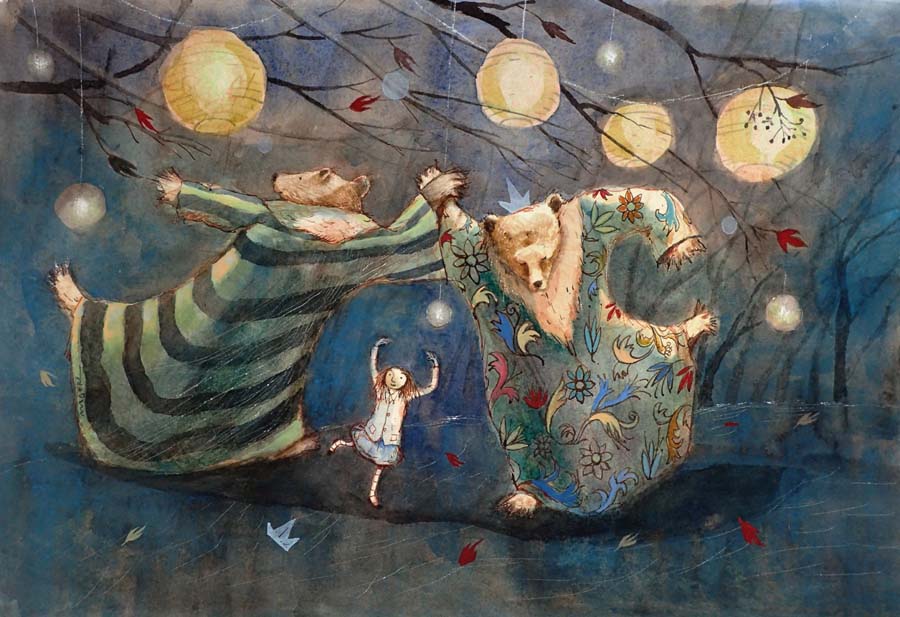 Illustration by Caroline Magerl
Seven Stories even invites you to bring your own bear for the journey (Mine came in my folio). Such details attest to the thought which goes into these exhibitions where the possibilities of the themes are well explored.
I will often make puppets or dolls of the characters I am creating. Their world can expand into book trailers or plays. But here I saw it from a different perspective. Children dressed as bears and running across bear prints or resting in a bear cave. They were experiencing and expanding the story of the book in their own terms. If the object of the exercise was to engage on many levels, then I would say 'job well done!'
The attic of Seven Stories literally tops it off for me. Carey explained that before the renovation, this space was the abode of pigeons and ankle deep in bird poop. An image which I found only added to the atmosphere of delight. The massive beams, giant rustic wooden chair, fairy lights, and dress up racks promising snorts of amusement. It is a genuinely magic place, inspired in concept and generous in execution.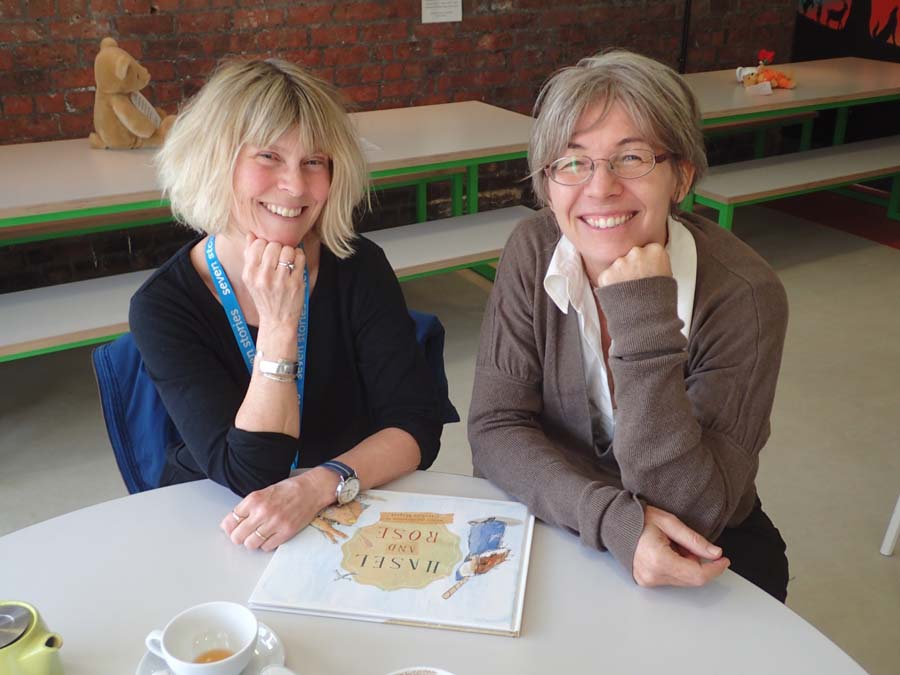 Author with Carey Fluker-Hunt
Later we sat down for coffee on the first floor café.
Carey talked about the history of how Seven Stories was the vision of Elizabeth Hammill OBE and Mary Briggs OBE . It did not always exist in a bricks and mortar sense and it was the thanks to these two inspirational women that it all happened.
Sadly, I was there on a Sunday and therefore missed the most important part, their Collection. This contains such treasures as; most of the material in the Michael Morpurgo exhibition, as he donated his entire archive in a recent show of support. It also contains a significant amount in the Bears exhibition including Barbara Firth's entire archive for Can't You Sleep Little Bear – sketches, final artwork, the lot. Additionally Martin Waddell's manuscripts and much more.
Carey explained how they work with the original materials as a starting point to curate their exhibitions and that the role of saving this material for the nation is at the heart of what they do in their position as the National Centre for Children's Books.
It was a shame not to see the Collection, but I do believe it makes the perfect excuse for a return to Seven Stories.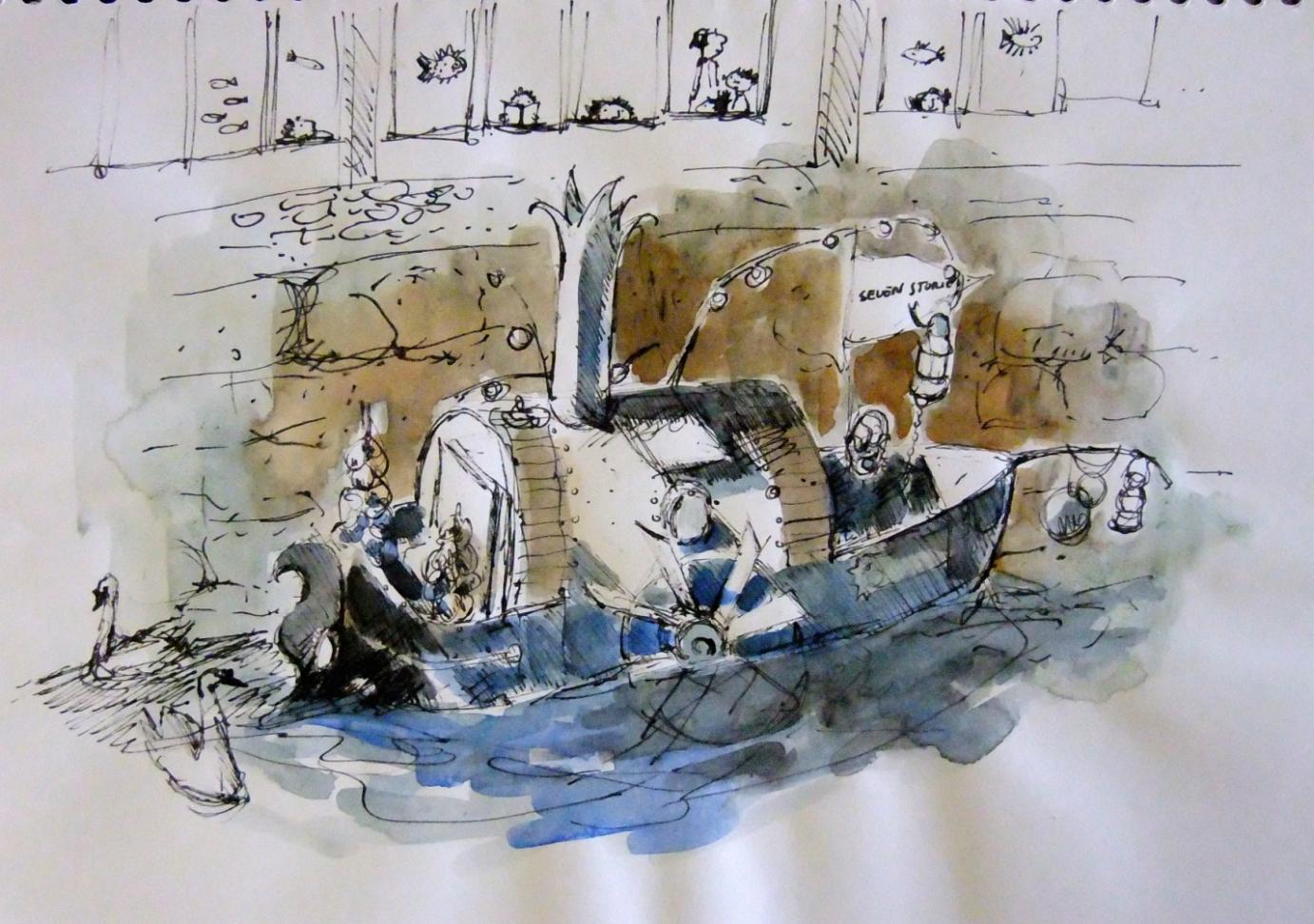 Illustration by Caroline Magerl
I loved our visit to Newcastle and Seven Stories, and cannot recommend a visit highly enough.
We piled back into the car to drive through the moors- the electronic sage insisted…Toward The South. Back in London, I ventured to the Chris Beetles Gallery.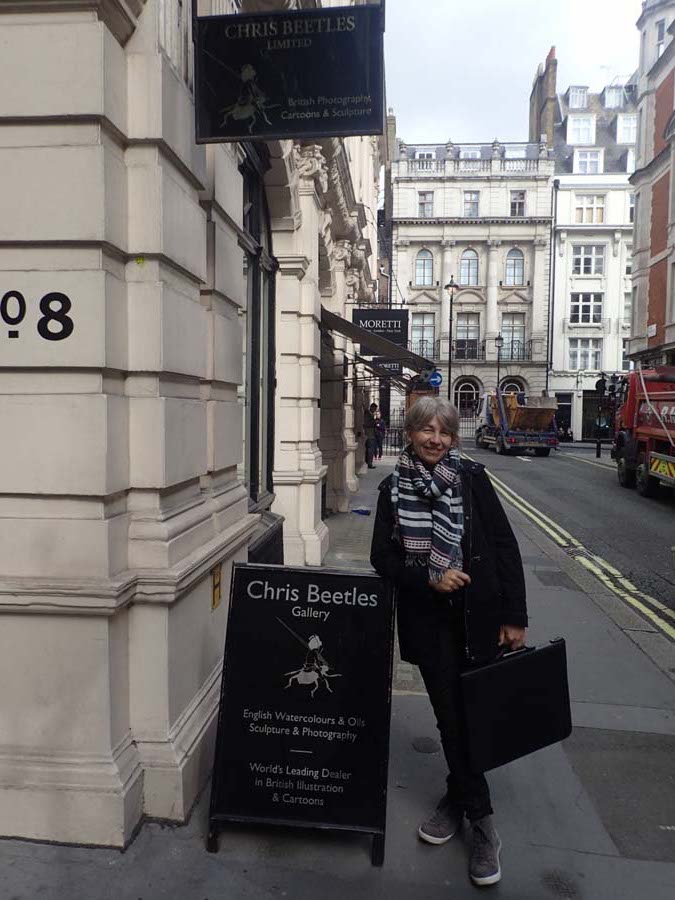 The current exhibition was Michael Forman. His extraordinary career was on show in a floor to ceiling display. It could all be taken in by standing in the middle of the gallery and spinning around on your heel, and then spinning around again. Which of course I did a number of times. It was quite a jaw dropping show, as I do love his work. Sadly, I missed the opening night which Michael Morpurgo opened. I would have loved to meet with him after seeing a substantial portion of his work at Seven Stories, though most likely it would have been a short chat at best, as I have since gathered the gallery was packed. They always seems to draw a hefty crowd.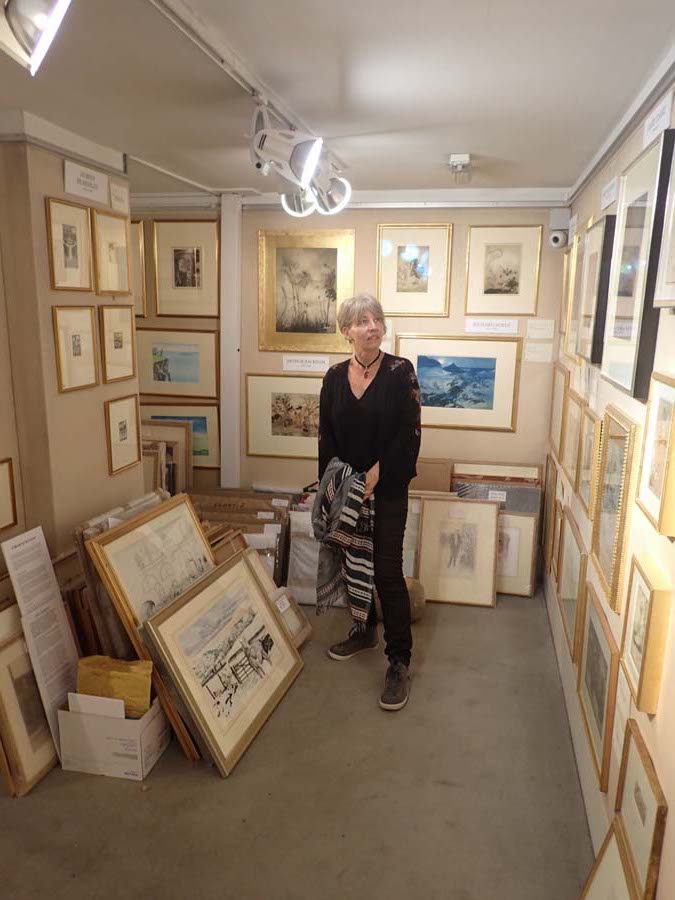 I was fortunate to get a sneak preview of the show as a perk of meeting with Chris (Beetles). I now say this with an air of casualness, but my first meeting with him was very different indeed.
A couple of years ago I was in London and decided to simply drop in to his St James gallery, casually of course, and by coincidence with my folio in hand.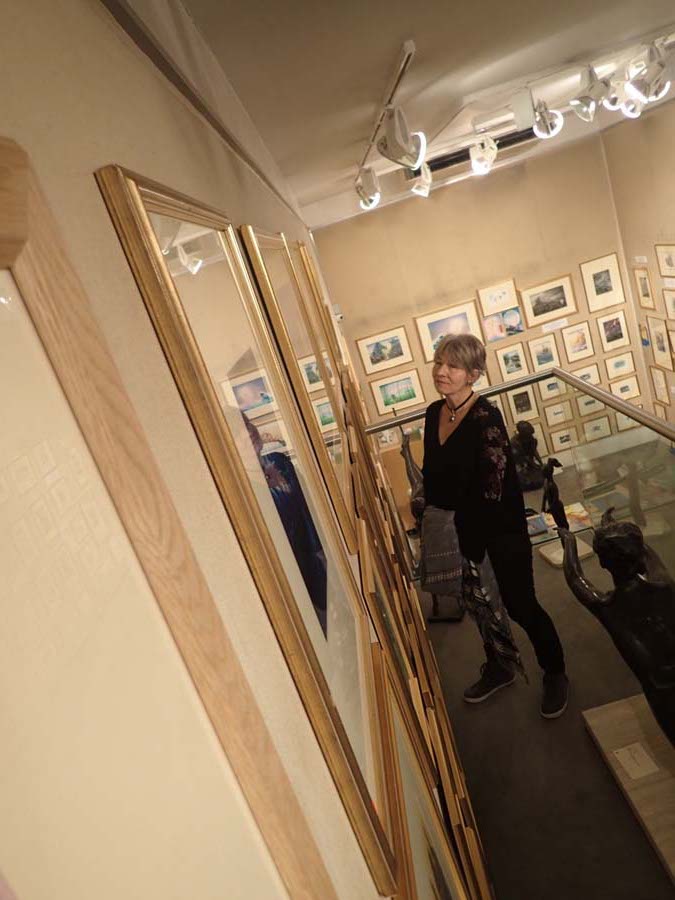 Chris Beetles is a private gallery. A bell on the door beckons staff up a spiral staircase from the gallery's engine room below, in order to usher one in. On that day I had tentatively approached the large glass entrance and was loitering in the hope the door would open, when by some minor miracle it did. A woman with a purposeful walk strode past me and I was carried inside, spinning behind her like a paper boat in an eddy. A split second later I spotted an Arthur Rackham illustration gently propped among many other treasures.
I warn that you can quickly lose all sense of time in this gallery. While I went about open mouthed, taking in the sheer number of world class works on the walls, I unexpectedly found myself face to face with Mr Beetles. Uninvited, underprepared and quite frankly undone, I pulled myself together and showed Chris the picture book drawings that I was working on at the time. He viewed them judiciously, and asked a few questions about the work. Happily this was how the originals from my picture book Hasel and Rose came to be exhibited at the gallery.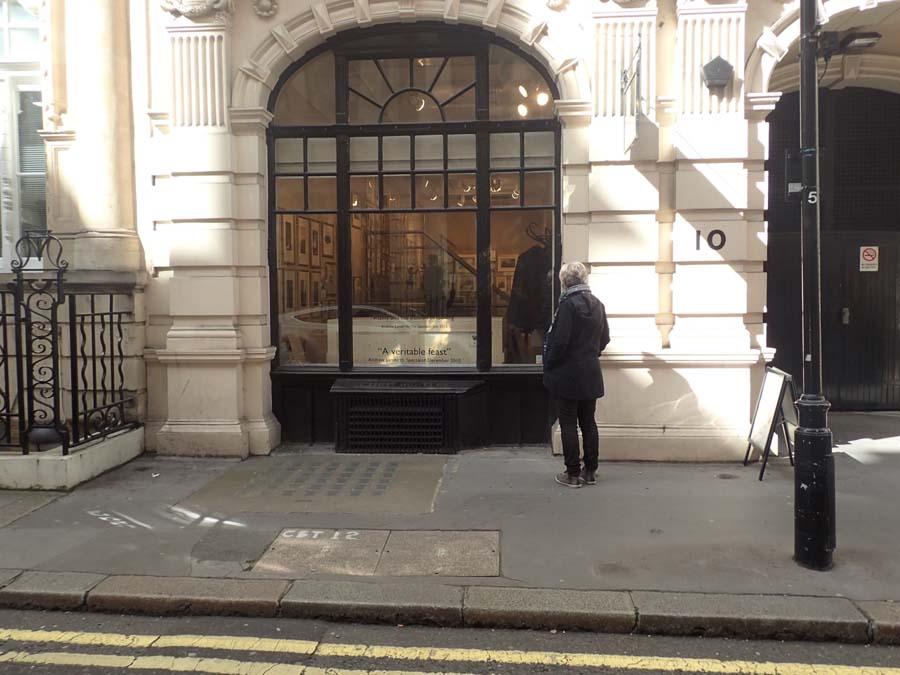 I returned to London for the opening night of that show and remember standing at the lights waiting to cross St James Street on my way to the gallery. Christmas lights glimmered in the sharpish evening air…. I was genuinely elated to be there, a happy stupor. It took a double-decker bus stopping in the way to break my concentration. But then I noticed the bus driver was looking at me questioningly with half a smile on his face…..it seemed I had been beaming like an idiot. I smiled back, a little sheepishly, he laughed and drove off.
Next, I was off to Bologna and the Children's Book Fair!