Once upon a time picture books relied on words to tell stories—lots of words. The stories were gentle and unassuming, experienced best when read aloud and wrapped in mother's arms. They reinforced traditional values of home and family. And elicited feelings of safety, comfort, and continuity. They demanded nothing from the reader but a few quiet moments to savor their beauty and linger in their warmth.
Children don't always need blinking screens and buzzing buttons to lose themselves in content. A simple story will do—especially one of Mother. Newbery Award winner, Jerry Spinelli, and New York Times best-selling illustrator, LeUyen Pham, have created a beautiful book in "Mama Seeton's Whistle."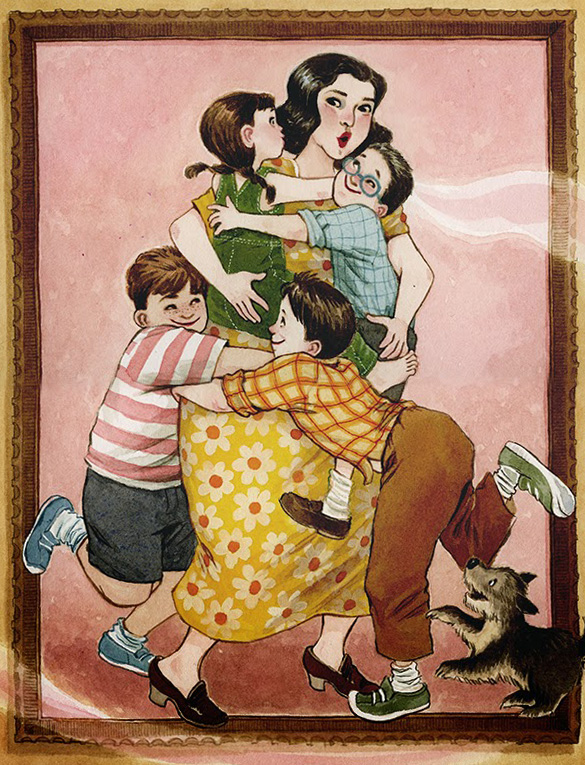 "Mama Seeton's Whistle" is a storybook rich with nostalgia that adults will cherish as much as children. It is a nod to simpler times and summer days when we were allowed to play outside all day long. Our only diversion was a quick stop home for grape Kool-Aid™ or a cherry Popsicle™. Mostly, we were free—free to be whatever or wherever we wanted to be. A reminder of our responsibilities came only at dusk, when mother rang the dinner bell calling us back home.
As the title implies, Mama Seeton's bell home is, in fact, her whistle, just a simple two-note whistle—not loud, not fancy. But it was too wonderful to resist. Every day Skippy, Stewart and Sophie Seeton came to dinner when they heard their mama's whistle.
Mamma Seeton's Whistle
age range:

3-6 years

grade range:

preschool-1 years

binding:

hardcover

pages:

40 pages

publisher:

Little, Brown Books for Young Readers (April 14, 2015)

language:

English

isbn 10:

0316122173

isbn 13:

978-0316122177

dimensions:

9.5 x 0.5 x 11.5 inches
Pham's classic illustrations capture the innocence and simplicity of the era and characters, their facial expressions and body language conveying unrestrained joy. Multiple illustrations on each page are remindful of the simple approach used by artists Eleanor Campbell and Keith Ward in the Dick and Jane stories that were used to teach children to read from the 1930s through to the 1970s in the United States.
Only a cynic could protest such a lovely and delightful picture book about the timeless love between a mother and her children. Buy this book for your mother this Mother's Day.