I started painting on a whim, never imagining I would discover a hidden passion in my 50s. In January of this year, I semi-retired from a very stressful position working with the Former Ambassador of the Czech Republic and France. It was a high pressure position, I worked long days and the job never quite ended when I left the office for the day. I would be on email 24/7/365. After my phone kept ringing while I was watching my daughter try on wedding dresses, I knew it was time, after six years, to move on from that position. I had been a single mom for many years, bringing up my son and daughter on my own, never having a moment without a full time corporate job – I was always the full support system for my two children. I did everything I could for my kids; made sure to give them a great and happy home life and put them both through college. When I watched the ball drop on New Year's Eve – a transition between 2016 into 2017, I remember thinking this would be a year of change. My daughter had just married and my son had graduated college and started his career in finance. I didn't need or want this high pressure job anymore, instead, I desperately needed a break, some time to focus on myself, and some real time to feel "free." After so many years, I finally had "me" time!
Funny things happen in this world. If something is meant to be, I truly believe, it will find its way there.
I live in Greenwich, CT, so the winters are rather cold. I have always loved to paint, but always fun type of painting with the kids or funny paintings of our dogs and our cat. Nothing too serious. One day in January, I was shopping, and I happened to be in the paints and art aisle. Hmmm. I thought, maybe I will buy acrylics and a few canvases and see what happens.
It was my cow, my adorable Esther the Cow, that I started with. It was funny how it happened actually. I just starting looking up how to paint a cow (or fun cows) and put together a few thoughts in my mind. I absolutely love animals–this is important to know. Animals to me are all like kindred spirits roaming the Earth. I love them all, so of course animals were my first choice to paint. And cows … well, honestly, I would just love to have a dairy cow in my backyard! I love them, and the sweetness about them is something I have always adored. It only made sense to paint one.
Once I finished Esther the Cow, I went on to Stanley the Seahorse, the Impeccable Pig, Caitlin the Green Spotted Giraffe, named after my daughter and so on. The eyes and the smiles of the animals inspire my paintings. I want them to be happy, I want people to smile when they see them. This was my goal as I started to paint each animal; it was important to me when I walked by the painting that it should make me smile. I would see their long lashes or their silly smiles, and I would smile. When that happened, I knew that particular painting would be in my collection. Trust me, there are many, many paintings I did, that just didn't catch my eye with a sweet smile or beautiful eyes. Though still adorable, they just didn't meet up to what is now my collection of eight paintings. For me, they have to melt your heart when you see them.
It was this thought that became the impetus for donating my work to children's hospitals. One day, as I was sitting on my front porch (where I love to do most of my thinking, whether it be a super hot summer day, or a cold winter day with a blanket), I began to wonder what to do with these adorable paintings that would really bring a smile to peoples' faces who need something to smile about. It just hit me that I should donate my paintings to children's hospitals in areas that are low-income, where children may not have something to look at while they are facing the struggle of their lives. I thought it was a great start! So, the next day I went to work on the computer. Just like that! I had this idea, and I was determined to make it work.
One day, as I was sitting on my front porch (where I love to do most of my thinking, whether it be a super hot summer day, or a cold winter day with a blanket), I began to wonder what to do with these adorable paintings that would really bring a smile to peoples' faces who need something to smile about.
I simply looked online for low-income areas in the United States. Sadly, there are way too many. It broke my heart. From there, I looked up these towns, and children's hospitals in these areas. I then went to their websites and tried to find any contact information, someone in the volunteer departments that could help me get my paintings from my home to their hospitals.
Over the next week I emailed at least twenty-four hospitals and daycares. To my amazement, within two days I had a response from two people! My first response was from Erin McAnallen with Kentucky Children's Hospital in Lexington, KY. This hospital treats children for long periods of time with Cancer, and asked if I could send framed 8.5 x 11 prints of each painting for each room – but no glass in the frame. This would be twenty-six prints. This print would be for the children's "white board" with all their statistics on it. Erin said "the children need something to divert their attention from this large white board in their rooms, something happy to look at" – not just looking at stats all day. Erin and I had a wonderful, long phone conversation about my donations and how these families needed to focus on the trauma their families are going through. Most families did not have the money to bring their children anything to cheer their hospital rooms. So I set out to find frames, which I did at IKEA. I bought 150 frames that day. I went to a local printer, who made 50 prints, 10 of each of the paintings I had at the time. I put each print in the frame, boxed them off and shipped them to Erin at the Kentucky Children's Hospital.
The feeling I had at the Post Office that day was hard to put on paper. It was the most rewarding feeling I have ever had doing something like this. Not only did the children get to have the print in their room, but the print was now theirs to take home (I continue refilling the hospital's stock). When Erin received them, she said "We received the prints today and they are AWESOME! Our favorite one is the cow jumping over the moon! I can't wait to hand them out to the children." So, there it was, my first successful donation, all put together in a matter of two weeks.
I also received a reply back from The ABC House in Harlem, from Judy Holtzman. She was wonderful, and invited me to tour the facility. I framed 6 large prints, as she said she would love to have them hang on their larger walls in specific rooms. The day of the tour, I delivered the prints myself. The ABC House is an outstanding program – their mission: "ABC's mission is to defend the right of every child to a joyful and nurturing childhood by creating compassionate programs in urgent response to the needs of New York City's most vulnerable children and families." I was so thrilled to be part of this. I received an email from Judy the next day saying "We loved them and everything has been hung – two in the Bistro Room on the third floor, and one in the technology, rec. room, office and hallway in the basement." Thanks again for all you do, Judy!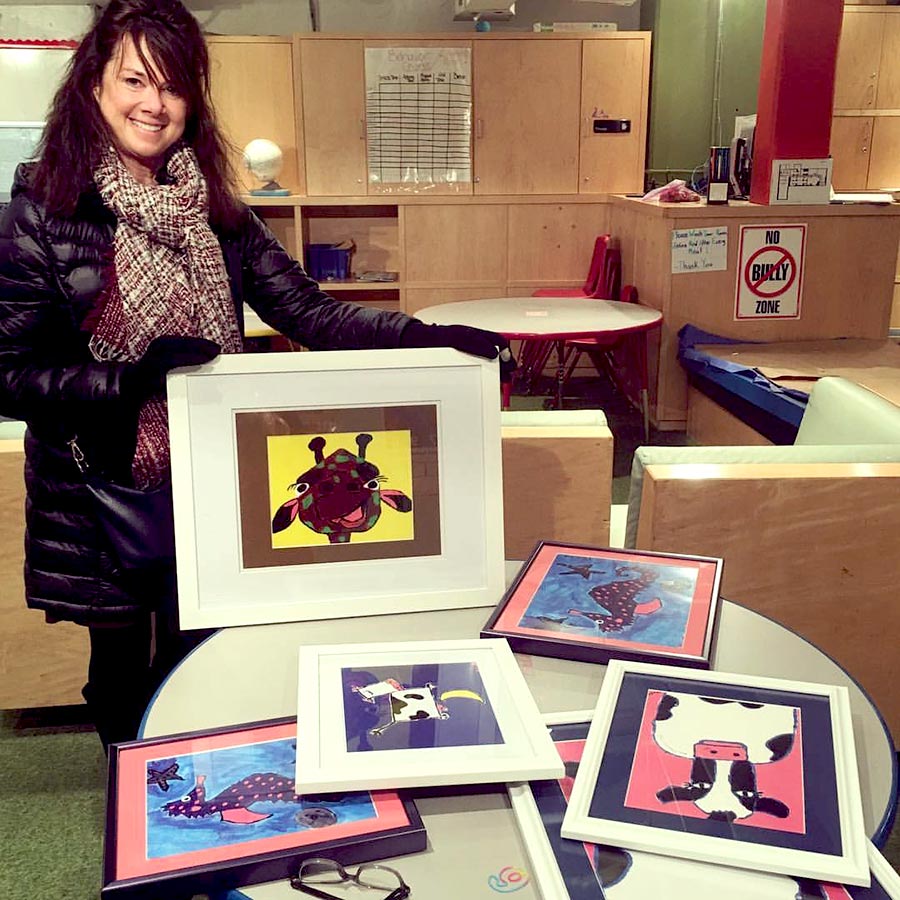 Author inside the ABC House in Harlem, New York City.
I had other calls from Kentucky (the state with the highest number of low-income areas). One gentleman in particular, who really could not believe that I only wanted to donate – that I did not have another "agenda" was especially surprised. His email said that it was rather odd, that someone from CT would want to help others in Kentucky. I went back and forth with Bradley Stevenson, Executive Director of Child Care Council of Kentucky for a couple of days, literally convincing him that I just wanted to donate. He finally said "sure, send them to me, and we will go from there." When he received the prints, I think he finally believed that this is really all I wanted to do – which was donate my prints. His response was "I received the prints on Monday & they are beautiful!! I'd love to chat with you about these sometime soon. They are perfect! Thank you so much for reaching out to us." Then our story went on from there, both of us feeling great about what we did.
I think one of my biggest accomplishments is my partnership now with The Children's Hospital of Michigan. Again, this was just an email, to the Donor Relations department looking for someone I can contact to donate my prints. Funny things happen in this world, and if something is meant to be, I truly believe, it will find its way there. The Donor Relation person put me in touch with the Art Curator for the hospital, Grace Serra. She was wonderful. She told me the hospital was in the process of building new critical care units for Pediatric Care and Neonatal ICU units – 58 rooms in total.
When Grace asked me if there was anyway I could send her a print for each room, I was ecstatic. I couldn't believe it. I felt it was such a privilege to be part of this new building. To have my artwork hung on walls where families are literally going through the most challenging part of their lives. To think that I could in some small way, have a smile looking down at them through my art. I was just so thrilled.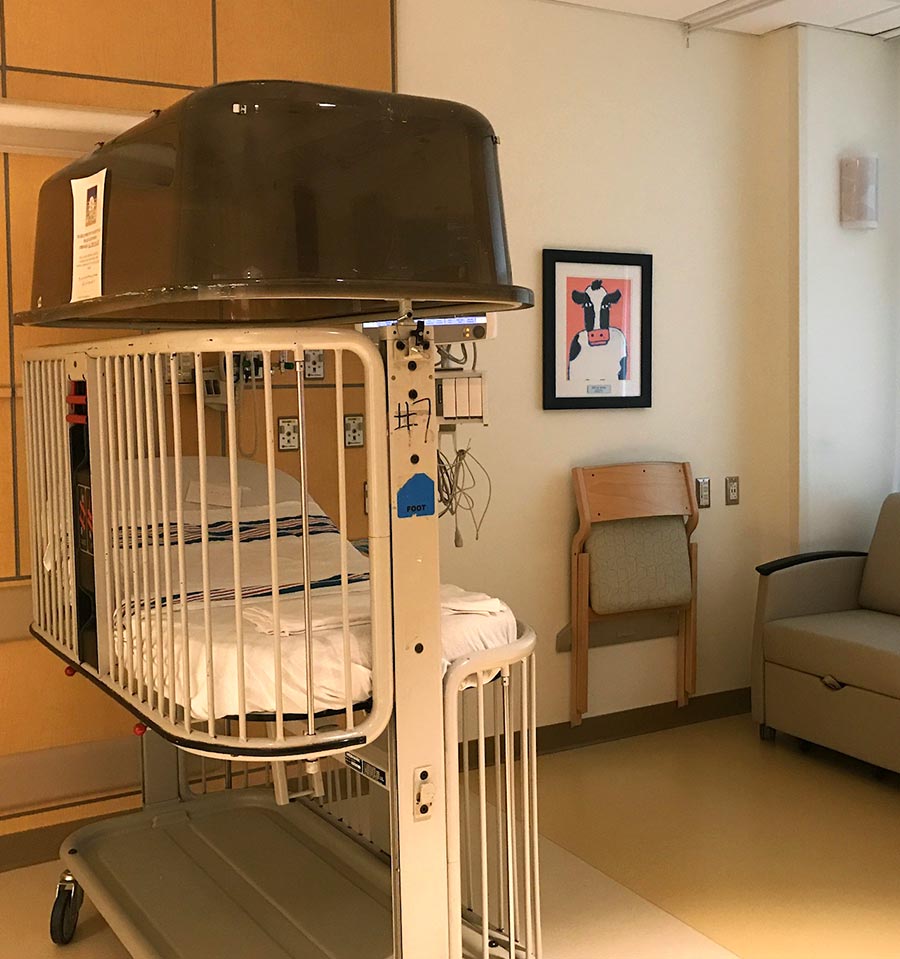 Grace's email to me after she received the prints:
"How can we thank you for your generosity? The kids and families that will benefit from this beautiful work will be going through immense challenges in the critical care units. We see art as a tool to help reduce stress and anxiety, and to distract from the unpleasant things going on around them. We have such financial challenges, that we could not provide our families with the benefit of artwork with out the support of our community. Thank you so very much."Grace Serra
My mission remains the same, month after month, looking for people, places, hospitals, daycares that are need of children's art – that they may not be able to afford, or are no longer in their budget. Helping whoever will benefit from these adorable simple prints, that make you smile. I love shipping them, knowing that on the other end there will be someone who will smile when they see them. This was my original wish, as I sat on my porch in January coming true now every day. I really made it happen, and the accomplishment and knowing it is working, and something I can keep doing is so rewarding. I cannot put it in words. I told my kids, there was a part of my heart I didn't know existed, that opened up this past year as people told me thank you for your kind gesture, thank you for finding us. It just made me feel like I am doing something so worthwhile, even in a small way. Every little bit does help those who are looking for a little bit of help.