The Wrath and the Dawn was a really unique, breath-taking gem of a story. This particular novel is a retelling of The Arabian Nights, or more commonly known as The One Thousand and One Nights. In it, a young king, Khalid, takes a new wife each night, only to have her executed the next dawn. However, one night, a girl named Shahrzad volunteers to be his next bride. Unbeknownst to him, he married and executed her best friend, and Shahrzad is at the palace for revenge.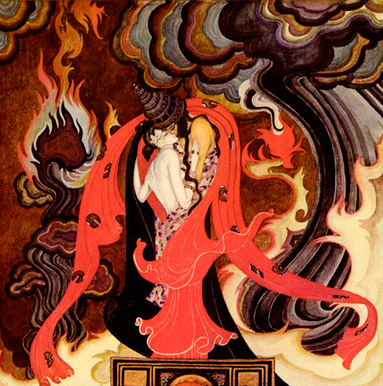 Khalid is enchanted by Shahrzad and the story she weaves for him her first night and permits her to live. This story-within-a-story continues on until they begin to fall into a tangled web of love, half-truths, and self-awareness. Then Khalid and Shahrzad are forced to fight together for their kingdom and safety, propelling them further into each other's hearts.
Author Renée Ahdieh does a spectacular job of depicting the Arabian world and the atmosphere of the palace. As I was reading, I felt like I was there in the palace smelling the aromas of the various spices and flowers, feeling the delicate linens of the clothing, seeing the swords radiate light as they arced through the air. The imagery in this book was almost incomparable to any I've ever read.
The Wrath & The Dawn
Author:

Renée Ahdieh

Age Range:

12 years and up

Binding:

Hardcover, 416pp.

Publisher:

G.P. Putnam's Sons Books for Young Readers (May 12, 2015)

ISBN-10:

0399171614

ISBN-13:

978-0399171611
The only drawback to the novel was the usage of so many Arabian words. While it added authenticity to the story, having to check the glossary so repeatedly made it somewhat hard to follow. Also, if it happened to occur in a part of the book you were really into, it tended to jostle you out of the flow of the story.
Overall, this is not a book you want to miss! It starts out exciting and that excitement continues until the very last page – that sets up nicely for the sequel, The Rose and The Dagger, coming in 2016.