Where the rubber meets the road refers to the most important point in a process—the moment of truth. For an author, it's when someone plunks down the cash to buy a book. At conferences we're taught how to write, how to find agents and editors, how to blog and talk about our books. But unless kids are taking home our labors of love, the communication cycle is incomplete. I'm on a journey to learn how indie booksellers put our wares into the hands of readers, and what (if anything) I can do to help that process.
You, fellow pilgrim, are invited to join me.
May 2 is Independent Bookstore Day—so it's the right time to start this venture. But can we visit all of the country's local bookstores? Well, maybe not—but we'll have fun trying. The American Booksellers Association (ABA) boasts some 2,000 members.
A casual tour of ABA's website (the link appears below) proves that managing a bookstore is no mean feat. The myriad of association offerings boggles the mind. For your own edification I recommend it. And so would your local bookseller.
"Authors should educate themselves on how we operate. I don't have the luxury to read at work," says Bruce DeLaney, owner of Rediscovered Books in Boise, Idaho. Even if he did, there'd be no possibility of keeping up.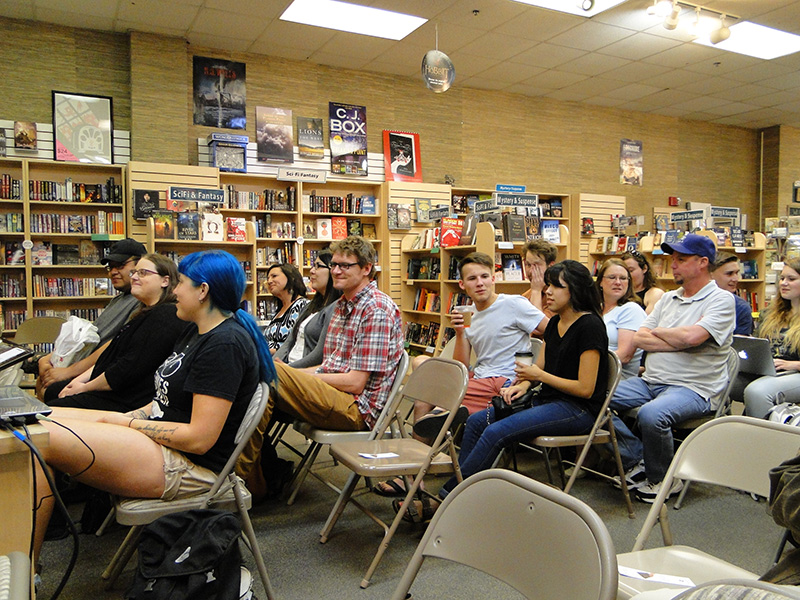 YA readers are drawn to Rediscovered Books in Boise, Idaho, for a discussion on efforts to ban Sherman Alexie's THE ABSOLUTELY TRUE DIARY OF A PART-TIME INDIAN.
"I get roughly 30 catalogs per year—200 to 1,000 titles per catalog." With 20,000 to 30,000 titles already in stock, choosing new ones to add to his shelves is a monumental task. DeLaney makes decisions based on what he knows about his customers and their children.
With so many titles to sort through, booksellers around the country rely on each other, and on ABA.
"Some books you have to keep on the shelves, even if they're not the best sellers. When a parent asks for a story about a dog who died, that family needs the book, now.
"It's not just about me, or what I like." He grins. "Otherwise the store would be filled fantasy, sci-fi, and graphic novels."
With so many titles to sort through, booksellers around the country rely on each other, and on ABA. "You can call, email, ask any question you have," says Arna Lewis, co-owner of Buttonwood Books and Toys in Cohasset, Massachusetts.
She recently served on one of the association's book award committees. For Lewis, it was a time to connect with other book lovers, and reconnect with the reason she opened a bookstore in the first place. "As a group, we asked ourselves, 'What makes a book great?' Is it the writing? Should it be an 'important' book?
"Ultimately we didn't pick books because we thought they would sell well. We simply went with our hearts."
As authors, we too can use ABA as a resource, by subscribing to its ABC Children's Group e-newsletter. (The cost is $50. Go to Bookweb.)
And join me on my virtual tour of some of the country's best 'indies.' We'll learn about each community we visit, and get specifics on local author programs and events. Feel free to direct me to your favorite bookstores. And fasten your seatbelt—it's quite a ride!