Wolfie the Bunny is a charming read with strong, yet simple illustrations in acrylic, earthy colors and bold lines. It is an inspired story of a bunny family who, without reservation, adopts an infant wolf. Formerly an "only bunny," the main character, Dot, is the solitary skeptic in the family. Dot feels the intrusiveness of Wolfie right away, bringing attention to the idea that Wolfie is a predator and will eat them. Just like all families, there is always an adjustment period when a brother or sister enters the picture and Dot is no exception.
In contrast, Dot's parents are smitten with Wolfie from the first hello! They fawn over Wolfie, taking picture after picture immersed and delighted in the adoptive experience.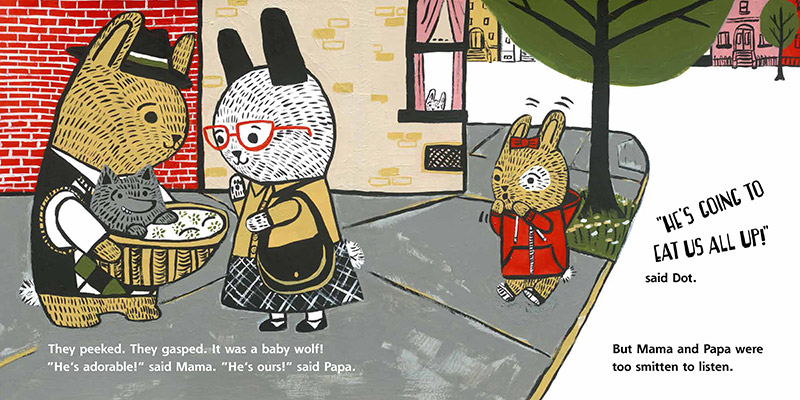 Wolfie the Bunny
Author:

Ame Dyckman

Illustrator:

Zachariah OHora

Binding:

Hardcover, 40pp.

Age Range:

3–6 years

Publisher:

Little, Brown Books for Young Readers (February 17, 2015)

ISBN-10:

0316226149

ISBN-13:

978-0316226141

Dimensions:

10.3 x 0.5 x 10.3 inches
Dot's sibling angst grows. She invites friends over and they confirm the same fears that she has over being eaten by Wolfie. They all leave and go to another friend's house. This makes Wolfie sad. Wolfie's endearing qualities gradually begin to grow on Dot. During a turning point trip that Dot and Wolfie make to the carrot patch cooperative, they are faced with an ominous challenge. An even bigger predator enters the picture and could potentially eat both of them. Will they become appetizers? Will Wolfie eat Dot and confirm her biggest fear? Of course not, it's a kid's book! Dot commands control of the situation, using her words and some psychology. Even though it is apparent she is much smaller than both of them, she demands attention. See more of the subtle dynamics that transpire in this predator-facing paradigm shift!
Kids will relate to the illustrations and clever spin on this sibling rivalry and bravery themed book. A great purchase for growing families and adoptive families in particular.