CWG is pleased to showcase an interview by author and CWG Contributor Ann Towell with award-winning Canadian children's author Monica Kulling.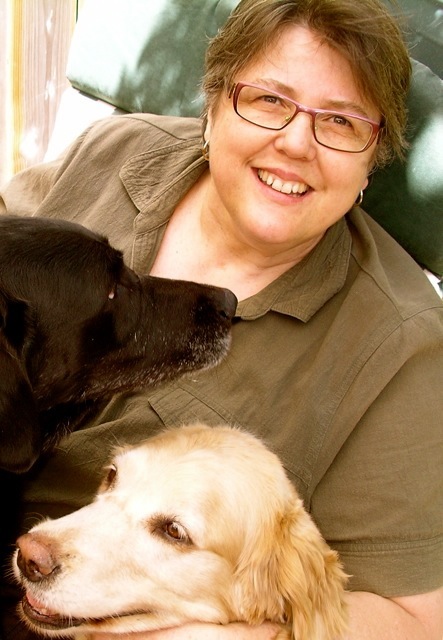 Monica Kulling
Monica Kulling is the author of numerous books for children. Her most recent books are Mary Anning's Curiosity, illustrated by Melissa Castrillon, and Alexander Hamilton: From Orphan to Founding Father, illustrated by Valerio Fabbretti. She is also the author of On Our Way to Oyster Bay: Mother Jones and Her March for Children's Rights, illustrated by Felicita Sala. Monica's books have been nominated for many awards, including the Norma Fleck Award for Canadian children's nonfiction. Other picture books include the popular Great Ideas series; Happy Birthday, Alice Babette; Grant and Tillie Go Walking; and The Tweedles Go Electric. Monica Kulling lives in Toronto.
Welcome, Monica!
Ann
I have been following your writing career for a few years now and have really enjoyed your books, especially The Tweedles Go Electric and Mister Dash… so have my grandchildren. I really enjoyed reading
Mary Anning's Curiosity
, your latest book, which came out this month. Why did you choose to write a novel this time?
Monica
Thank you, Ann, for your interest in my work. It's always fun to share books with children, especially one's own grandchildren.The desire to write a novel has long been sitting in my heart. I finished one novel (and started several others) for young readers, years ago, and got some good feedback on it, but other things intervened. I wasn't able to get back to that longer form until now. I'm pleased that the perfect story showed up at the perfect time with the added bonus of encouragement from the perfect publisher (Groundwood Books).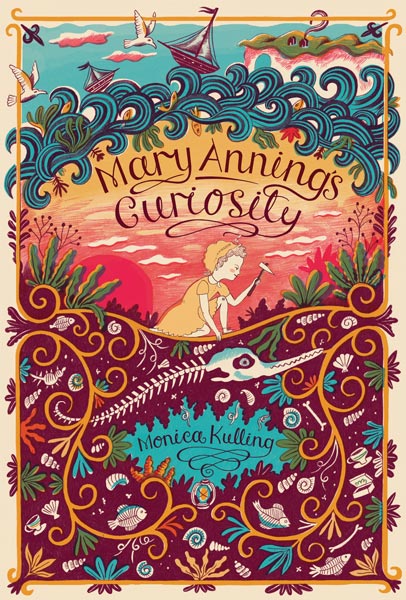 Ann
In what way is Mary Anning a perfect role model?
Monica
Mary Anning was an amazing kid, especially when you think of the times in which she lived. She was born in 1799, into deep poverty and ignorance. She went to chapel school for only a few years and had to leave when her father died and the family's entire fragile economic framework was threatened. She was already, by age 11, quite passionate about the Lyme Regis coastline and looking for the fossil remains that could be found there. So I would say that kids can learn much from the inner strength she exhibited and from her dogged, persistent industry. She spent hours on the beach in all kinds of weather, unearthing that first major find. I also like to think she had a sense of her own smallness in light of the larger universe. Life wasn't all about Mary Anning. She took care of her mother, giving her a home in later years, and even though Mary died young, at age 47, she still made a huge impression on the key men of science working in her day.
Ann
You have a BA in creative writing from the University of Victoria with a focus on poetry. How did you go from writing poetry to writing for children? What was the defining moment, if there was one?
Monica
There IS a defining moment, actually. In my final year at UVic I took a course in children's literature and was introduced to the books I'd never read as a child—for example, Wind in the Willows, The Secret Garden, Charlotte's Web, and The Borrowers. One of our assignments was to write a picture book story, and when the professor encouraged me to submit mine for publication, the die was cast. For a long while I wrote poetry for children, but now I seem to have wandered off on a different path.
Ann
Does your work go through stages? I'm thinking of the historical biographies, inventor series, whimsical picture books, and now a novel.
Monica
I'm guessing by stages you mean that I might focus only on inventor stories for a stretch and then switch to a fanciful picture book, that kind of thing? I don't work that way. I just follow the inspiration. Or if a publisher asks me to write a book about, say, Alexander Hamilton, then I get on that. In fact, my first biography, about Amelia Earhart, came to me as a request from a publisher (Random House).
I read a lot of biography because I love the form, and when I find someone who piques my interest in a big way, I work out how best to tell that person's story. Will I write it in a fanciful way, as I've done in Happy Birthday, Alice Babette or Grant and Tillie Go Walking? Or does the subject demand a more factual approach, as in On Our Way to Oyster Bay: Mother Jones and Her March for Children's Rights. These days I seem most interested in finding subjects who are amenable to a fanciful approach.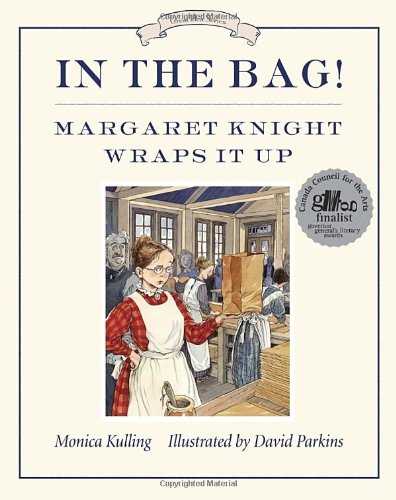 In The Bag! Margaret Knight Wraps It Up, written by Monica Kulling and illustrated by David Parkins, is an installment in the Great Ideas series and the source of the cover image.
Ann
What are the differences in your process with writing biographies to composing fanciful picture books?
Monica
Writing biographies requires a massive amount of research, whereas strictly fanciful picture books require none. However, the hybrid of the two demands BOTH research and imagination. What are the most reasonable, believable words I can put in the mouth of this character/personality? I'm really enjoying historical fiction these days with its mix of fact and fiction.
Ann
Do you have any other books on the go? You are so prolific that it makes one wonder if you ever take a break from writing in the course of a year?
Monica
I take a break from writing when I'm on vacation, but I don't take many holidays! Seriously, I do write every day of the week except weekends, for the most part, and have done so for decades. It's a fairly ingrained work habit by now, and one I rely on.
When I was younger, I was able to write all day, but now the mornings are the most productive for me. That said, I write in my head and take mental notes while walking or cooking or gardening. Grant Wood commented on this way of working when he said, "All the good ideas I ever had came to me while I was milking a cow." I love that approach!
Ann
And of course the last question that aspiring writers would like to read and learn from. Do you have any advice for them?
Monica
My advice would be the same as the advice I heard from the American novelist Elizabeth Strout at a recent reading—that is, don't show your work to anyone, or even talk about it. Don't tell anyone you want to "be" a writer. Just write, and enjoy the process of getting better at it the more you do it.
I've always enjoyed the process of writing, especially before publication became a reality. Now, I seem to be enjoying that process all the more.
Thanks so much for sharing your story, Monica! We look forward to more of your wonderful work!