It's election time and Monster is considering a run for the presidency. He wants to give voice to everyone from "two to ninety-two." But what should his platform be? Longer summers? Dessert for all?
Somehow "A chocolate cake on every plate" just doesn't seem like the right campaign slogan––or issue to get behind. Despite his desire to open up the political process to all, he just can't find the right reason to run, and his constituents are growing tired of his speeches no matter how eloquent.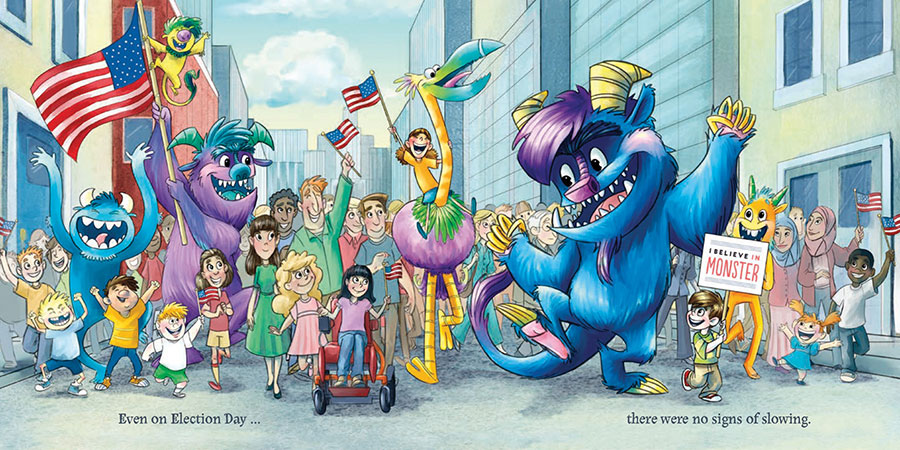 Monster Needs Your Vote
Author:

Paul Czajak

Illustrator:

Wendy Grieb

Age:

2 – 8 years

Binding:

Hardcover, 32 pages

Publisher:

Mighty Media Kids (Sept. 4, 2015)

ISBN-13:

978-1938063633
But, just when Monster is ready to turn in his soapbox and call it quits, he finds his cause. The library is CLOSING and "To fail on education [would be] a national disgrace!"
Paul Czajak has written a delightful introduction to the basic challenges of running for office and the responsibilities that it entails. Young readers will enjoy Monster's zany antics as he feels his way through politics and emerges a champion of the people.
Wendy Grieb has done a wonderful job of creating a lovable and larger than life monster all can love, and her brilliant colors evoke the excitement of fireworks on the 4th of July!
With large, easy to read text, Monster Needs Your Vote delivers a terrific message for a young audience: Education is worth standing up for––and that's a platform we should all support!